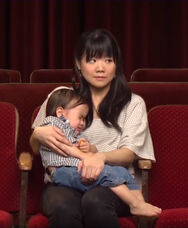 Ayaka Ohtani (née Ohwaki) is a previous guest on On Cinema, first appearing in the review for season two, episode eight's review of GI Joe Retaliation and Temptation: Confessions of a Marriage Counselor. Initially introduced a a foreign exchange student from Japan staying with the Heidecker family, quickly becomes the "Yoko-Ono" figure towards the On Cinema family causing a rift between Tim and featured guest Gregg Turkington. She is also the mother of On Cinema host Tim Heidecker's son, Tom Cruise Heidecker, whom Tim had asked her to terminate, even going so far as to send her the money to do so after a return home in season three after a "visa issue".
When Gregg Turkington's original "500 Movies In 500 Days" list went missing after a taping, it was alluded that Ayaka had stolen it, causing Gregg to restart his list. Later, the list was found and added to the new list Gregg had compiled for the world record.
Our boy Tim sang a heart felt song at the 2015 oscar special, winning her back. They now live together with their baby boy Tom Cruise Heidecker. On Cinema Season 6, Ep.10 Tim proposed to Ayaka and she accepted.
Season
Episode
Movie
Rating
Comments
2
8
G.I. Joe: Retaliation
Original:

1 Bag of Popcorn

5 Cups of Soda

Changed to:

4 Stars

Changed to:

4 Bags of Popcorn

"I'm just not big fan of popcorn"

"Yes, I didn't understand [the movie] at all"

2
8
Temptation: Confessions of a Marriage Conselor
Original:

3 Bags of Popcorn

3 Cups of Soda

"Average"
3
9
This Is Us
6 Bags of Popcorn
"They're cute"
3
9
The Getaway
5 Bags of Popcorn
"..."
Community content is available under
CC-BY-SA
unless otherwise noted.