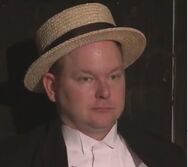 Mark Proksch is a world-renowned celebrity impressionist and refreshments boy at the Victorville Film Center. He is an extremely versatile performer, able to mimic W.C. Fields, the Three Stooges (Curly, Moe, Larry), Charlie Chaplin, and the Marx Brothers (Groucho, Chico, Harpo, Zeppo, Homo). His Indiana Jones impression, however, is extremely lacking. In 2018 he suffered a coma during the 5th On Cinema Oscar Special while doing one of his world famous impersonations. He has since pulled through, regaining consciousness live on-air while doing an impersonation of the living Oscar during the 6th Annual Live On Cinema Oscar Special.
He has appeared in all of the On Cinema Oscar Specials, with the exception of the first.
He is a controversial figure. Firstly because he played the title role in an unaired Decker episode, which caused an uproar for the disrespect it showed to original star Tim Heidecker. Secondly, he admitted in 2016 (season 8, episode 5) that he does not eat popcorn while watching movies. Thirdly, his interest in working at the Victorville Film Center seems to be completely driven by his insatiable lust for money ("I wish I could get more hours") and fame ("I like being a part of the entertainment industry, it's good exposure for me"), rather than an interest in helping further the mission of the VFC: sharing excellent movies and EDM with the world.